How to distinguish quality spices from fakes: black pepper
ATTENTION! CHEAPLY INCREASED RAW MATERIALS IN THE SEASONS - THIS IS THE HAZARDS TO LIFE
The quality of the ground pepper directly depends on the quality of the peppercorn, from which it is made. Therefore, quality pepper is first of all ripe peas with a full core, which contains substances responsible for the taste properties of pepper. It is the milling of high-quality peas that can be called real black pepper.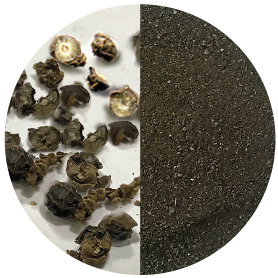 LOW-QUALITY PEPPER - immature, rotten, rotten peas, empty inside - without taste, sharpness and smell.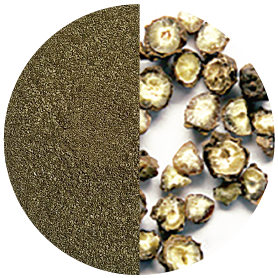 QUALITATIVE PEPPER - ripe peas with a full core, which contains substances responsible for the taste of pepper.
IT IS IMPORTANT TO KNOW! TASTY PACKET PROPERTIES
Piperine - the main indicator of the taste of pepper. Responsible for the sharpness and burning - the characteristics for which consumers buy it. In the composition of high-quality pepper peas not less than 4% of piperine.
Volatile Oil - adds pepper characteristic "warm" flavor, richness and fullness of taste. In the composition of quality black pepper peas from 1% essential oils and above. Piperine and essential oils are contained in the core of the pea pepper.
PEPPER BLACK POWDER TM "PRIPRAVKA" HAS HIGH TASTE INDICATORS:

THIS BLACK SMOOTH PEPPER IS NOT BLACK COLOR!
Pepper peas have a thin black-brown shell, under which there is a light core. Therefore, ground black pepper never has a uniform black color! The color of this pepper is heterogeneous, it consists of particles of gray, light brown color with a slight greenish tinge. The blacker the pepper, the more impurities there are.
CHEAP FATCH CHEESE BLACK HAMMER CORRECTIONS MAY CONTAIN:
Stones, earth, dust
Branches, garbage
Glass, plastic
Metallic impurities of dirt, insects, larvae
Excrement of animals
Empty unripe grains
Dangerous pathogenic microorganisms
TM "Pripravka"puts high demands on the product that we offer our customers, so we use a multi-level approach to raw material purification.
PEPPER TM "PRIPRAVKA" TAKES 7 STAGES OF CLEANING RAW MATERIAL:
Input control - rejecting batches of raw materials that do not meet the standards
Magnet - removes large magnetized metal houses
Vibrating screen - screening of plastic, glass of garbage
Destoner - cleaning of stones, earth
Aspiration - cleaning from dust, insects and empty immature grains
Spiral cleaning - screening out pepper pods with twigs and tails
Metal Detector - removal of small non-magnetized metal impurities
METHODS OF HURRYING AND FALSEIFICATION OF THE BLACK HAMMER PEPPER
Unfair producers can add spent, buckwheat husk, mustard meal, flour, starch, ground rice during grinding. If the pepper has an earthy-black or uniform dark gray color, then the spent (husk) is added - the pepper waste after pressing the essential oils that lack the characteristic sharpness, taste and smell, as well as waste from cleaning the pepper (branches, empty and rotting Pea, stalk, stems, etc.). A brown shade indicates the presence of ground coriander, yellowish pepper color gives a mustard meal.

HOW TO DISTINGUISH A GOOD QUALITY BLACK PEARL FROM PEPPER WITH ADDITIVES?

MOST MANUFACTURERS USE CHEAP RAW MATERIALS, WHICH CAN CONTAIN:
Earth, dust, stones
Glass, plastic
Metal impurities
Insects and their larvae
Animal excrement
Pretty and rotten raw materials, dried and ground into powder
Fruits and parts of plants infected with mold

USE OF CHEESE RAW MATERIAL WITH MICROBIOLOGY THAT HAS A THREAT TO HEALTH:
Mold (mold mushrooms)
E. coli
Pathogenic microorganisms
Salmonella

ATTENTION! PURCHASING A PERFECT PEPPER YOU PAY WITH YOUR HEALTH
Mold is a sign of infection of raw materials with mold fungi, which release harmful toxins (ochratoxins and aflotoxin). Ochratoxins and aflotoxins affect the kidneys, organs of the gastrointestinal tract, destroy liver cells, causing acute hepatitis. May lead to irreversible changes in the human body. Resistant to heat treatment of the product.
HOW TO IDENTIFY THIS BLACK PEPPER?
The quality of pepper is determined by the density of its pea, which depends on the degree of ripeness of pepper during the harvest period. Light (immature, empty) grains with a low density are less valuable - they do not contain the necessary amount of piperine and essential oils. The density of quality pepper should be at least 490 g / l. This pepper is characterized by an increased content of piperine (not less than 4.0%) and essential oils (at least 2.0%). Pepper peas TM "Pripravka" has a density of not less than 610 g / l, which indicates the use of ripe high-quality pepper grains.
DETERMINE THE QUALITY OF BLACK PEPPER
For the experiment, you will need several samples of pepper black peas, each type of 20 g and 120 ml of alcohol (ethyl 96%) or vodka (for each sample).
Step 1. Put in a transparent container of 20 g black pepper.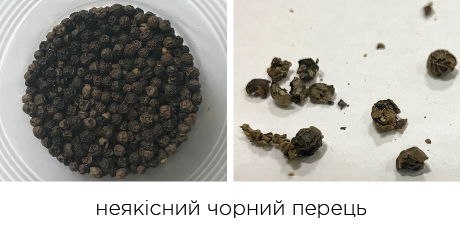 Step 2. Add 120ml of alcohol or vodka to the pepper and mix.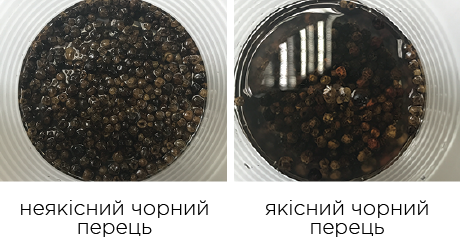 Step 3. Wait 2-3 minutes for the light pepper grains to float and evaluate the result.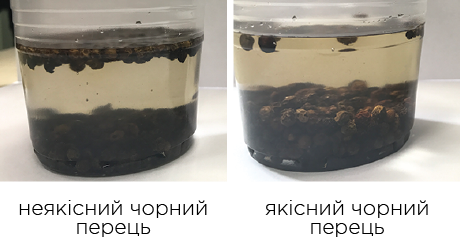 AND FOR WHAT DO YOU PAY MONEY?
The number of peas on the surface of the liquid indicates the presence of empty substandard grains, in which the density is less than 490 g / l. The more light peas have surfaced, the more in a pack of pepper pods that do not contain piperine and essential oils, for which black pepper is especially appreciated.
FOUNDER OF TM "PRIPRAVKA" PERSONALLY CONTROLLED QUALITY OF PRODUCTION:
Together with a team of technologists and representatives of the supply department, he personally visits farms and plantations in countries where raw materials are produced
Conducts a personal audit of the suppliers' factories
Approves the specifications (quality requirements used in the production of seasonings), which comply with the standards of Ukraine and the EU.
ТМ "PRIPRAVKA". FOOD SAFETY IS GUARANTEED!
16 June

2017